POWER PANELS
Low voltage Switchgears Type tested Prisma Plus G and Prisma Plus P, and non-type tested
Power Distribution panels up to 3200A.
MCC (Motor Control Center)
ATS (Automation Transfer Switch),
Load sharing & Synchronizing panels
CONTROL PANELS
BMS (Building Management System)
PCC (Power Control Center)
PLC (Programmable Logic Controller)
HVAC panels
DGP (Data Gathering Panel)
LCP (Lighting Control Panel)
FCU and many other types
INSTALLATION DIVISIONS
Each team has the ability to terminate his scope of work relatively with the client needs. Besides the supply and install of either Control or Power panels, our installation team has the capability to install Fire alarm system, Firefighting system, Security Access control system, CCTV system, Scada System, HVAC system power and control, including Data gathering panels, Local Control Panels and BMS system controllers. As well as installation at site and implementing connection with other devices such as: "chillers, AHUs', FCUs', VFDs', Duct Heaters, and Humidifiers etc…" plus testing and commissioning.
LV Panels
Automatic Transfer Switch with and without By pass
MCC PANEL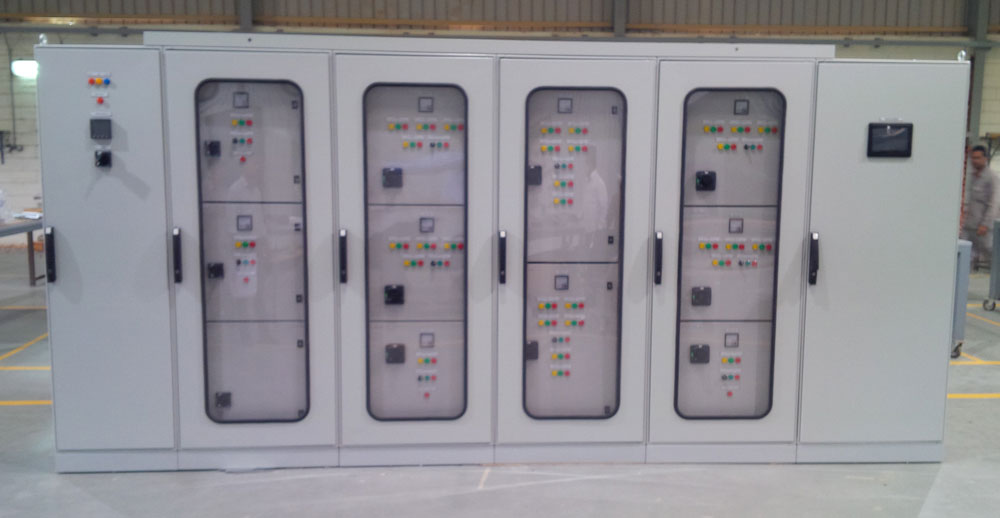 SMDB's
Fully type Tested & ASTA Certified
Motor Control Centres
Generator Synchronizing and Control Panels
PLC PANEL
Type Testing & Certifications